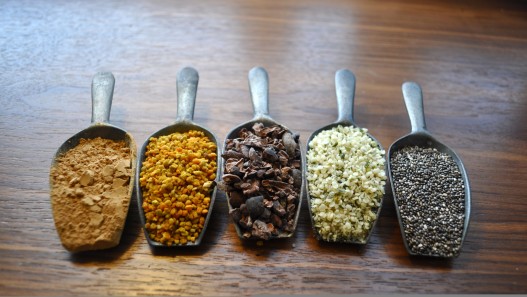 If you're like me and enjoy a quick and easy breakfast, smoothies are the way to go!  You can get a megawatt of health promoting nutrients that will support you throughout the day in less than 5 minutes.  So next time you're making one consider adding any one of these 5 ridiculously healthy and delicious foods.
Maca
Maca is a root that belongs to the radish family.  It's grown in the mountains of Peru and is sometimes called "Peruvian ginseng".  It has a nutty flavor and is jammed packed with goodness.  Some of the vitamins and minerals that it contains are: B1, B2, B12, C & E, Calcium, Zinc, Iron, Magnesium, and Phosphorous.  It helps restore red blood cells, keeps your bones and teeth healthy, aids in healing wounds quicker, increases your energy and helps combat acne.  Not to mention women benefit form Maca because its properties relive menstrual issues and help manage menopause symptoms.
Chia Seeds
Chia is a member of the mint family but doesn't have a minty taste.  It's rather tasteless making them a perfect addition to any dish without compromising on the flavor.
These tinny seeds are full of antioxidants, complete protein, Omega-3 (more Omega-3 than flax seeds) & Omerga-6 fatty acids and fiber.  They absorb 9 times their volume in water providing prolonged hydration, energy and the feeling of fullness. They contain 2 times the amount of potassium as bananas, 3 times more iron than spinach and 5 times more calcium than milk!! Along with calcium chia seeds contain magnesium and boron, which are essential trace minerals that help us absorb and utilize calcium.  Chia seeds are wonderful addition to your smoothie helping normalize blood sugar levels, promote weight loss, strengthen the immune system, increase energy levels, reduce inflammation, cleanse your colon, lower cholesterol, improve mood, help with IBS and so much more!!!!
 
Hemp Hearts
Hemp hearts are a complete protein, and have a balanced ratio of omega-3 and omega-6 essential fatty acids. They contain vitamins A, D and E, many B vitamins, calcium, sodium, iron and dietary fiber.  These little guys promote a healthy heart by reducing blood cholesterol and preventing plaque in the arteries.  They improve your memory, mood, reduce anxiety and alleviate symptoms of depression.  Their high fiber content keeps the digestive tract clean and healthy, eliminating bloating and constipation.  The oil in hemp hearts aids in clearing up skin conditions such as eczema, psoriasis and dry skin.  And if that wasn't enough, hemp is a natural appetite suppressant helping you feel fuller longer.  Adding them to your breakfast meal will reduce cravings for the rest of the day!
 
Bee Pollen
Bee Pollen is absolutely remarkable.  Whenever I think about how these little pallets came to be and their nutritional content I'm in awe!  Bee pollen is made by honeybees; 1 teaspoon of pollen takes one bee working 8 hrs. a day for 1 month to gather!!!  That's a whole lot of work for just one teaspoon.  Another interesting fact is that bee pollen is a complete food and contains more protein than any animal source of equal weight.  Bee-gathered pollen is rich in free amino acids, vitamins, including B-complex, and folic acid.  This golden pebble will enhance your energy, sooth your skin, promote health to the respiratory system, help treat allergies, aid digestion through its enzyme content, boost your immune system due to its antibiotic-type properties, support the cardiovascular system, aids in infertility problems and boost hormones making it a great aphrodisiac!  This is just a short list of the health benefits of this wonder food!!!! Be mindful of your source when purchasing bee pollen, best place to get it is at your local farmers market or from a beekeeper near you!
 
Cacao Nibs
Cacao nibs are cocoa beans that have been roasted, separated from their husks and broken into smaller pieces.  Think of them as natures 'chocolate chips'.   These flavorful little pieces are brimming with great nutritional value!  They are a great source of calcium, iron, copper, zinc, potassium, chromium and one of the best dietary sources of magnesium.  Magnesium is essential to bone strength, circulation and nerve & muscle function.  Cocoa nibs will boost your energy, elevate your mood, reduce PMS symptoms, control your appetite, and improve circulation.
Stay tuned for a delicious smoothie recipe that I will post this weekend featuring some of these AHHHmazing ingredients!
Warmest Hugs,